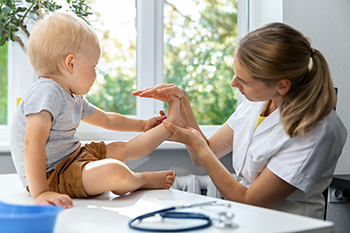 While autism is a neurological condition some neurodivergent children, particularly those who are autistic, may have problems with their legs and feet to a greater degree than their neurotypical peers. Autistic children may have low muscle tone or hypotonia which occurs when limbs are floppy and hard to move. Given that autistic children react to external stimuli with sensitivity, their feet may be sensitive to the shoes they wear too. Children with this condition can be uncomfortable with any type of movement including walking, running, and even standing. Some children grow out of this while others do not. Such issues increase autism symptoms and can make the child unhappy or irritable. Specialized footwear, specific exercises, and orthotic inserts might help improve children's movement. It is suggested that autistic children have regular visits with a podiatrist to check for foot discomfort and help to manage their symptoms.
The health of a child's feet is vital to their overall well-being. If you have any questions regarding foot health, contact Stephen Boykins, DPM of SoCal Podiatry, P.C.. Our doctor can provide the care you need to keep you pain-free and on your feet.
Tips for Keeping Children's Feet Healthy
Make sure their shoes fit properly
Look for any signs of in-toeing or out-toeing
Check to see if they have Clubfoot (condition that affects your child's foot and ankle, twisting the heel and toes inward) which is one of the most common nonmajor birth defects.
Lightly cover your baby's feet (Tight covers may keep your baby from moving their feet freely, and could prevent normal development)
Allow your toddler to go shoeless (Shoes can be restricting for a young child's foot)
Cut toenails straight across to avoid ingrown toenails
Keep your child's foot clean and dry
Cover cuts and scrapes. Wash any scratches with soap and water and cover them with a bandage until they've healed.
If you have any questions, please feel free to contact our offices located in Downey and Moreno Valley, CA . We offer the newest diagnostic and treatment technologies for all your foot care needs.
Read more about How to Care for Your Child's Feet